Print4Display: Elevate Your Brand with Quality, Versatility, and Sustainability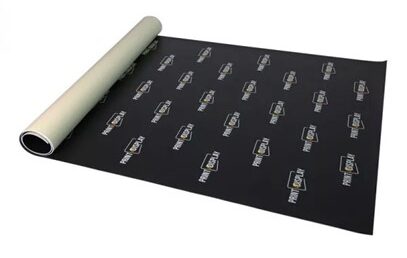 In the fast-paced world of marketing and business promotion, standing out is a challenge. However, with Print4Display's range of exceptional products, you can elevate your brand with a blend of quality, versatility, and sustainability. This review will delve into these remarkable products and explore how they can be the game-changer for your branding efforts.
Starting from the Ground Up: Branded Floor Mats
Let's begin with the foundation – quite literally. Print4Display's branded floor mats are a unique tool to make a memorable impact. Available in various sizes, from discreet small mats to foam rolls of up to 2m in width and 25m in length, these mats have your floor space covered, quite literally.
Constructed from high-quality printed PVC Foam, these mats are impressively thin at just 2mm. Despite their slim profile, they offer a soft, comfortable surface to walk on while boasting remarkable durability. A coated surface ensures the print stays vibrant and long-lasting, and the non-slip rubber backing ensures safety, even in high-traffic areas.
What truly sets these mats apart is their sustainability. With an average lifespan of 2-3 major events, they offer long-term usage and reduce environmental impact. With Print4Display's floor mats, you can boost your brand's visibility while promoting sustainability.
Elegance in Every Thread: Custom-Printed Tablecloths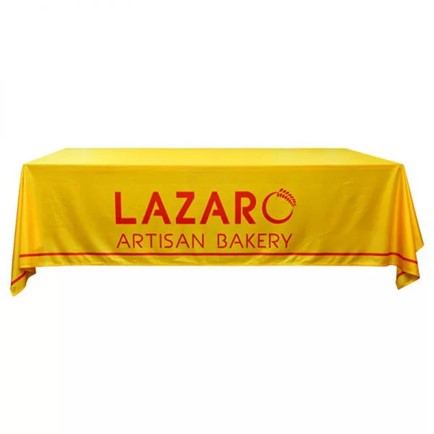 Elegance and professionalism take center stage with Print4Display's custom-printed tablecloths. These tablecloths offer an exquisite finish with perfectly hemmed edges that not only enhance their visual appeal but also ensure a flawless drape on tables. Moreover, the fire-retardant material provides peace of mind when using them at various venues.
What makes these tablecloths exceptional is their customization options. You can have them printed with any design or message in full color. The printing quality is top-notch, ensuring vibrant colors and sharp text. You can even match Pantone colors, ensuring a seamless brand presentation.
The simplicity of ordering and the variety of available sizes make these tablecloths a versatile addition to your branding toolkit. They are easy to iron and maintain, offering a practical and elegant solution for events, presentations, and exhibitions.
Feather Flags: Making Your Brand Soar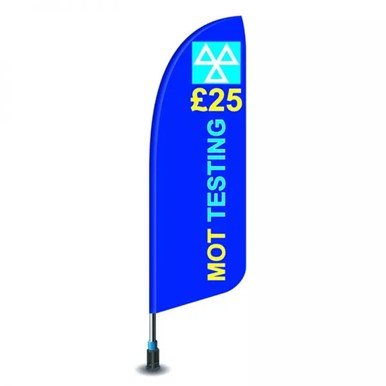 In a fiercely competitive business landscape, a memorable first impression is non-negotiable. Print4Display's feather flags are the answer to that challenge. They offer numerous advantages for businesses seeking increased visibility and a larger customer base.
The versatility of feather flags is a standout feature. They are suitable for both indoor and outdoor use, making them a versatile choice for any marketing campaign. Outdoors, they are designed to be striking and eye-catching. Indoors, especially at trade shows or conferences, they are equally effective.
What sets feather flags apart is their high level of customization. You can print them with your business logo, slogan, or message in any color, font, or style you choose. This means you can create a customized marketing tool that perfectly reflects your brand and message.
Not only are feather flags effective at drawing attention to your business or message, but their unique shape and design ensure they stand out from the crowd and capture people's attention. Their repeated exposure helps to increase brand recognition and recall.
Additionally, feather flags are highly portable and easy to assemble. They can be set up quickly and taken down, making them a cost-effective marketing tool that can be used repeatedly.
Sustainability and Longevity
Print4Display is committed to sustainability. The materials used in these products are not only of high quality but also eco-friendly. The durability and longevity of these products further contribute to their sustainability. Their ability to withstand multiple events, high foot traffic, and various weather conditions means fewer replacements are needed. This reduces waste and helps your business maintain an eco-conscious image.
Conclusion
In conclusion, Print4Display provides a range of promotional tools that enhance your brand's visibility and leave a memorable impact at any event or location. Whether it's custom-printed floor mats, elegant tablecloths, or eye-catching feather flags, Print4Display ensures that your brand shines. The versatility, durability, and sustainability of their products make them a valuable addition to any marketing toolkit.
By choosing Print4Display, you're not just investing in promotional products; you're investing in your brand's future. The durability of their materials ensures that these products will remain in top condition for years to come, allowing for long-term brand exposure. Furthermore, the ability to customize your branding materials means you can continually refresh your brand's look without the need for a complete overhaul. This adaptability and sustainability make Print4Display a valuable partner for any business seeking to enhance its brand's visibility.
Don't underestimate the power of branding materials like floor mats, tablecloths, and feather flags. These seemingly small details can have a significant impact on your brand's presence and recognition. As you plan your next event or marketing campaign, consider how Print4Display's products can elevate your brand and leave a lasting impression on your audience. Your brand deserves the best, and Print4Display delivers